Friday, January 20, 2017
New study casts doubt on theory Anne Frank was betrayed
https://sg.finance.yahoo.com/news/singapore-expect-now-trump-president-034815104.html
This is What Singapore Can Expect Now That Trump is President
Now that Donald Trump is the U.S. president, the world will now see if he was all rice and no chicken on the campaign trail. If he does follow through on everything he promised to do, Singapore will be one of the countries impacted the most.

​
This is because Singapore's economy relies on trade like few other nations on earth. This is shown by the total trade as a percentage of GDP number – the higher the number, the more open a country is to international trade… and the more important trade is to that country's economy.
Trade through Singapore accounted for 326% of the country's GDP in 2015 – the third-highest ratio in the world, after Hong Kong and Luxembourg. In fact, that figure has been at 300% or higher for Singapore since 1976, according to data from the World Bank (except for 1986 when it was 295%).
With that in mind, here are three ways Singapore could be "trumped" by the new American president.
Less attention from the U.S.
The U.S. is Singapore's fourth-largest trading partner as measured by total trade (imports plus exports). Trade between the two countries is dominated by the exchange of different kinds of machinery and commercial services. The chances are good that as President Trump focuses more on domestic matters, and on alienating China, the U.S. government will pay less attention to the rest of Asia. The days of President Obama's so-called "Asia pivot" – entailing a renewed and refreshed focus on the continent – are long gone.
More trade with Asia
In October 2015, the U.S. government signed the Trans-Pacific Partnership (TPP) along with 11 other nations, including Singapore, Australia, Malaysia and Japan. The TPP's goal was to make it easier for the participating countries to trade with each other by removing trade tariffs and lowering importing and exporting costs between members.
But Donald Trump said the TPP was "a terrible deal" for the U.S. Then, shortly after winning the U.S. presidential election, Trump announced that one of the first things he will do as president is withdraw from the TPP. Without U.S. involvement, the deal is dead.
That means easier access to the giant U.S. consumer market for countries like Singapore will not get any easier. And if Trump starts imposing higher tariffs on goods from Asia, it will slow down trade even further.
But soon after Trump promised to withdraw from the TPP, Chinese president Xi Jinping said that "China will not shut the door to the outside world but will open it even wider." In other words, China is set to fill the void left by the U.S. easing up on globalisation. And it already has deals in place – all of which involve Singapore – that could nearly match the TPP in size.
For instance, China is a leading member of the Regional Comprehensive Economic Partnership (RCEP). This is a trade agreement between the 10 ASEAN countries (which includes Singapore) and the six countries with which ASEAN has existing FTAs – this includes China, Australia, Japan and New Zealand.
This deal is still being negotiated. If it happens, the RCEP will be a mega trade deal. The 16 countries involved account for more than a quarter of global trade and a quarter of global GDP. Plus, with China, India and Indonesia involved, it would cover almost half of the world's population.
China is also developing the One-Belt, One-Road initiative, which is an effort to create a modern-day Silk Road. The proposed infrastructure will more tightly connect the continent of Asia to Europe and parts of Africa. One estimate suggests that this will end up costing about US$8 trillion. It will allow China to trade more easily with the majority of the world's population.
Singapore hopes to play a key role in this initiative. Not only is it a key part of the Maritime Silk Road portion of the plan, but Singapore also hopes China will use it as a platform to reach out to Southeast Asia and the rest of the world.
So even with the potential of less trade with the U.S., Singapore could still benefit from better trade relationships with its Asian neighbours.
More uncertainty
It used to be that in developed markets (like the U.S., Europe, and Japan), things were comfortable and easy, and there weren't many surprises. Politics didn't matter much to share prices.
And then there were crazy emerging markets (like most of Latin America, Africa, and much of Asia), the wild west of investing, where anything could happen. Bad politics could erase years of market gains in a matter of moments.
When I worked for a political risk consulting company a few years ago, we would talk about how an emerging market was one where politics mattered to markets. That meant that personalities (that is, the people in power) were bigger than, and more important than, the institutions those people headed up. Who's president, what the parliament is doing, what kind of people are making policy – all of that could be the difference between making or breaking a market.
And this is still true in emerging markets, like Brazil and South Africa and Malaysia and Russia. Who the president is and what crazy things he's doing can completely change the business and investment environment.
The big change is that developed markets are looking a lot more like emerging markets when it comes to politics. From Germany to Japan to the U.S., politics in many developed markets are a lot more polarised than they've ever been before. Different sides don't want to talk – they only want to yell. And after a while, a strong personality harnesses one part of this polarisation. That's what can threaten institutions. And that's a big risk.
This is what we see happening with the popularity of Donald Trump. Even in a developed market like the U.S., personalities are becoming bigger than the institutions they inhabit (like the presidency). If personalities can change those institutions for the better, it's a good thing. But it's a big risk – as the history of many countries in emerging markets has shown.
This type of uncertainty in the world's most developed market, the U.S., could translate into more volatile markets everywhere. And that includes Singapore.
So with Trump now in the White House, Singaporeans can expect to see more market volatility, less interest from the U.S. and a bump in trade with the rest of Asia.
Wednesday, September 21, 2016
How did Disney get Moana so right and Maui so wrong?
By Arieta Tegeilolo Talanoa Tora Rika
Founder of talanoa.com.au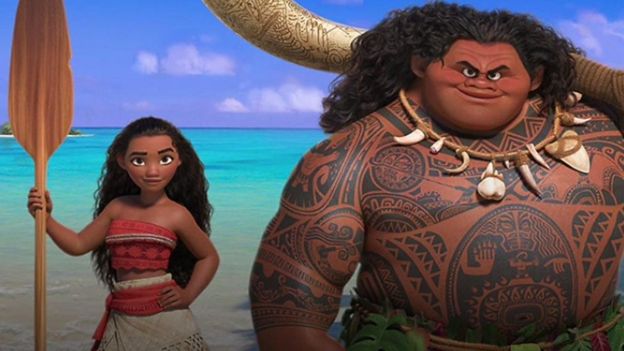 A forthcoming Disney movie tells the story of Moana, a Polynesian girl who teams up with demi-god Maui to save her people. But some people have said the film and its merchandise are appropriating Samoan culture.
Arieta Rika, who founded a website called
Talanoa
as a home for Pacific stories, told the BBC how she wants her culture to be celebrated.
As a Pacific person, I can't tell you how excited I am to see this movie. Seeing faces that look like mine, telling a story that relates to me. I just don't have the words.
I haven't felt this excited about a Disney film in decades.
I am excited that the film has given a voice to many Pacific people who might have otherwise gone unheard when discussing issues about culture, people and place in the context of the Pacific and our stories.
It has also raised important questions about cultural appropriation and misappropriation. Is Disney doing it right?
Is there a way to celebrate Moana and Pacific culture, without offending Pacific people?
---
What is Moana?
The second Disney film set in the Pacific Islands (after Lilo and Stitch, set in Hawaii)
The story of a Polynesian girl who teams up with a Samoan demi-god Maui to go on a quest and save her people
Maui - voiced by Dwayne Johnson, stage name The Rock - is based on a Polynesian legend
According to myth, Maui created the Pacific Islands by fishing them from the sea
---
I've yet to watch the movie, but so far, it looks like Disney has applied four important aspects of Pacific culture: awareness, context, relationship and respect.
This week, Disney released a children's costume for Maui, a character in the Moana film. I get it - Disney knows and appreciates that children across the world will fall in love with Maui, and like many other Disney characters, they'll want nothing more than to look exactly like him.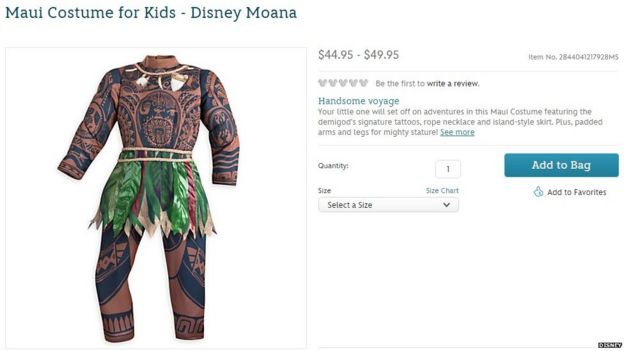 On paper, it seems like a pretty logical decision to create a costume.
There is not much to work with in terms of clothes though, as he only wears a grass skirt and a necklace made of shells. Hence the final product that Disney released - a body suit with brown skin, tattoos, Maui's necklace, and a grass skirt.
In reality, it has offended many Pacific people. I understand the reasoning behind the grass skirt and the necklace, but the brown skin is too far, and the tattoos are culturally misappropriated.
Tattoos are deeply meaningful to Pacific people. Like a fingerprint, a tattoo is unique to each person.
Our markings tell a personal story that we carry with us on our skin, everywhere we go - constantly reminding us of our values, our people, and our identity.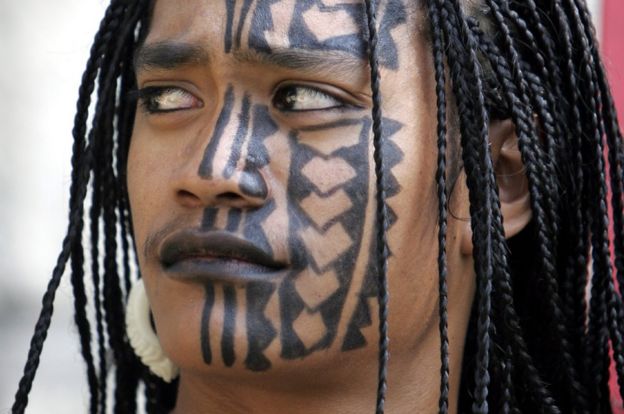 It is considered taboo and extremely disrespectful in many Pacific cultures to wear the markings of a people or place that you are not spiritually or physically connected to. After the release of Moana, Maui may be a Disney character to some, but to many Pacific people, he is very real - a hero, ancestor, demi-God and a spiritual guide.
Even for Pacific people who don't believe in Maui, replicating a Polynesian tattoo and offering it to children for a price is belittling and trivializing an intimate aspect of Pacific people and culture.
Knowing this, Disney could have reconsidered their decision to include tattoos on Maui's costume. That would have also eliminated the need for the brown skin body suit that many consider "brownface". They also would have anticipated the backlash from Pacific people who interpret their decision as inappropriate and disrespectful at best - and at worst, a way to make money from a particularly significant aspect of Pacific culture.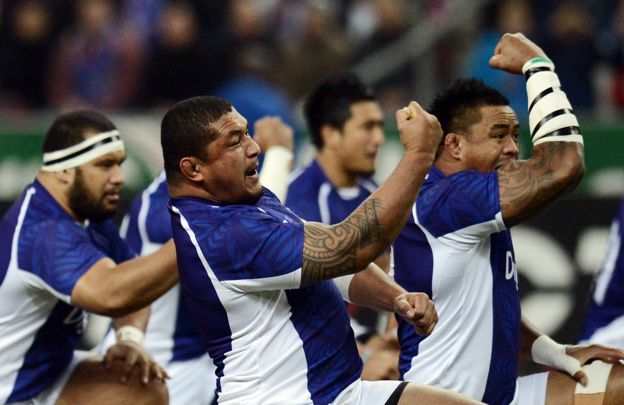 You need not be a Pacific person to enjoy and respect Moana, Maui and Pacific culture. Many Pacific people welcome questions. Taking initiative and starting these conversations creates trust, shows respect and ultimately, could be the start of a meaningful relationship between you and Pacific culture, and a Pacific person.
In the meantime, I will be eagerly waiting for the release of Moana. If anything, I appreciate the opportunity it is giving me and many other Pacific people to share our thoughts, our opinions, and our stories.
After all, having these conversations on a global scale is important, and it is what I and many Pacific people who have gone before me have been waiting for, for centuries.
Posted by

Social Studies Singapore
at 9:47 PM
No comments:
Links to this post

Sunday, September 18, 2016
How do you charge your phone when the sun doesn't shine?
By Tom Jackson
Technology of Business reporter
Seeing our mobile phone running low on juice can induce near panic in many of us these days - we've become so reliant on them.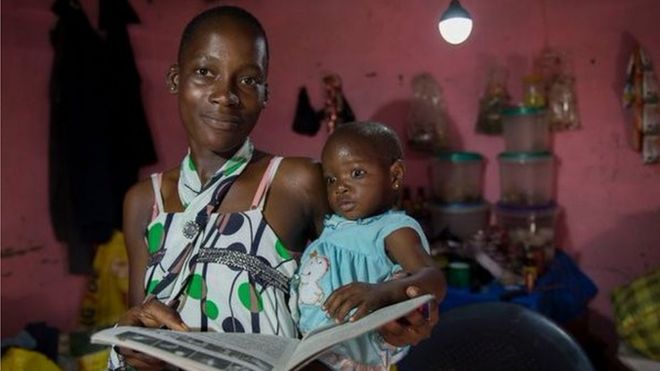 So imagine what it's like living in a remote village whose only electricity comes from solar power. What do you do when the sun doesn't shine?
Not only might your phone die, you might not have enough stored electricity to keep the lights on for more than a few hours. You have to light candles or a smelly kerosene lamp to see what you're doing at night.
But one solar power firm, Azuri, reckons it has an answer to this problem.
Its HomeStart system learns your electricity usage patterns and monitors climatic conditions to make sure the stored solar power is used in the most efficient way.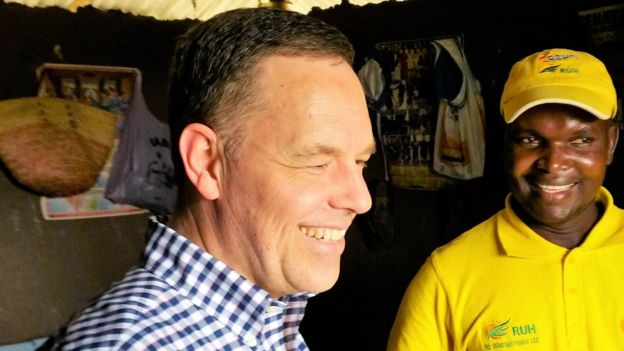 This can involve dimming lights to use less power and generally eking out the stored energy on less sunny days.
"Standalone solar home systems run until the power stored from sunshine during the day is exhausted, and then switch off," says Simon Bransfield-Garth, Azuri's chief executive.
"In poor weather, this may mean lighting time is reduced to just a few hours, forcing customers to revert to traditional means, such as harmful kerosene."
Health and education
The firm believes this is the first time machine learning has been applied to rural domestic solar power systems, and is an example of how innovation in the solar sector is helping "off-grid" households power up more efficiently across the continent.
New products are coming on to the market, including solar-powered fans, TVs and fridges.
One firm, Aleutia, provides a "solar classroom in a box", including solar panels, 10 rugged computers, a server, LED projector, and 3G and satellite networking equipment. It costs about $9,500 (£7,100).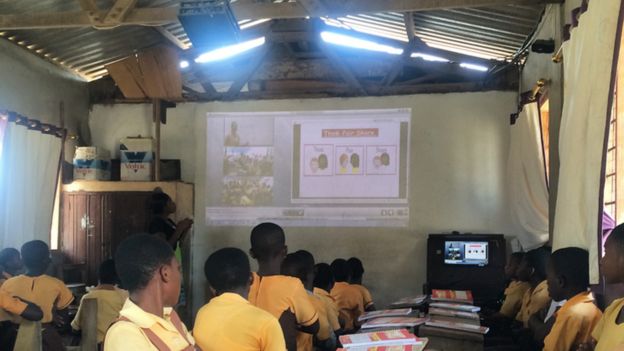 Aleutia has provided 137 schools in Uganda with computers and education software.
The company has also launched SolarEnabler, a "plug-and-play" box that provides everything you need for solar power in a wall-mounted box with constant 2G connectivity.
"Our computers are unique in their incredibly low energy consumption, which makes solar affordable," says Michael Rosenberg, Aleutia's chief executive.
It is making a big difference in rural primary health centres, he says.
"A single computer can register 800 patients a month, and record their symptoms and conditions. It is solar-powered hardware that provides transformative big data for health ministries."
Pay-as-you-go
Innovation in financing has also been key to the growing adoption of solar energy.
"Pay-as-you-go" and "rent-to-buy" schemes, pioneered by the likes of M-Kopa Solar and Azuri, are helping households pay off the cost of the solar kit over a manageable period.
Customers use mobile money services like M-Pesa to credit or top up their solar accounts.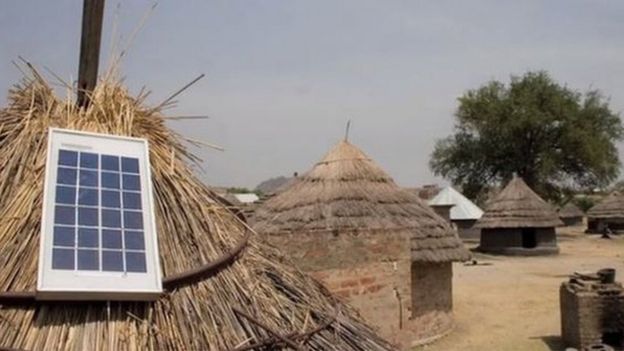 "Over the course of typically 18 months, the purchase of top-up pays off the cost of the solar home system," says Mr Bransfield-Garth.
"After this, the customer fully owns the system and can use it to access clean, renewable energy with no further cost."
Azuri, which launched in Kenya and has since expanded to other countries, has sold about 80,000 solar home systems so far.
Its entry level solar panel is a five-watt unit which, with plenty of sun beating down, provides users with about eight hours of lighting for two rooms and mobile phone charging.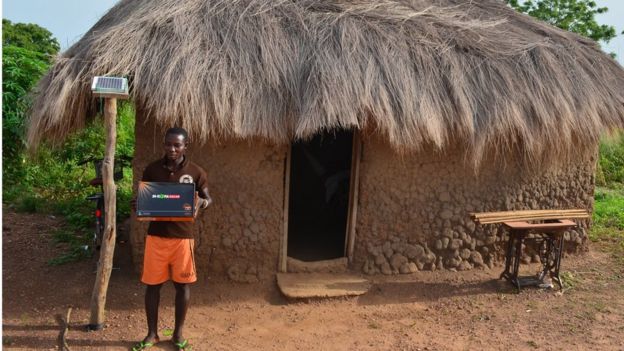 It costs about 220 Kenyan Shillings a week (£1.62; $2.17).
"Azuri's objective is to deliver clean and affordable power to enable rural Africans to realise their aspirations; lighting and mobile phone charging are just the starting point," says Mr Bransfield-Garth.
From light to credit
PEG Ghana, another solar power firm, has connected almost 15,000 homes in the West African country via a pay-as-you-go model and a kit made up of two lamps, a radio, a torch, and a mobile phone charger.
"We enable customers to replace their perpetual spending on poor-quality polluting fuels, such as kerosene, with solar energy that quickly becomes an asset the customer owns," says Nate Heller, chief executive of PEG Ghana.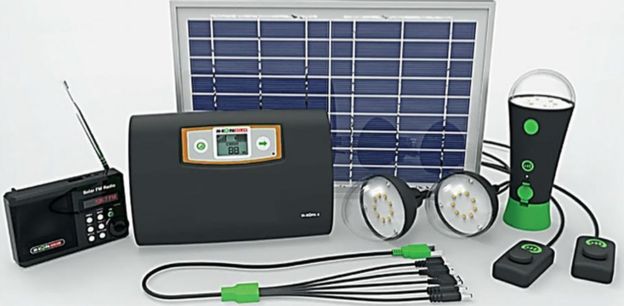 And the firm now offers customers who have paid off their solar units loans for other items, such as smartphones.
"Before you buy our product, you have a challenge to get anything on credit. You live in the middle of nowhere, you have no credit history, and no collateral," Mr Heller says.
"After you've paid off our system we have one year's worth of data on how you paid off the loan. Now we can give you loans for things like smartphones - you are a safe credit risk," he says.
Business case
But about 585 million people still lack access to electricity in Africa, according to the International Energy Agency, with only 14.2% of people in rural areas able to power their homes.
Even those with access to regular grid power can find it unreliable.
This leaves millions having to rely on kerosene, candles, battery torches or other fossil-fuel powered technologies.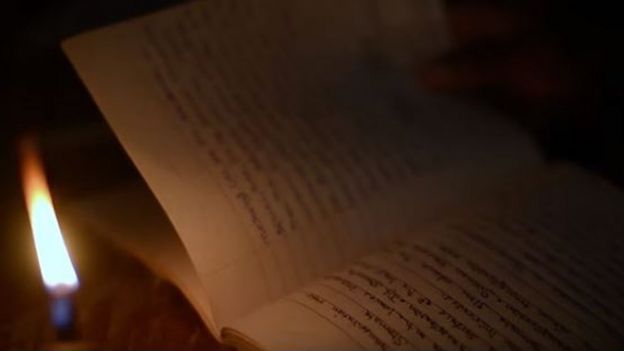 Solar power could save them a lot of money.
So the case for taking solar power into poorer communities is not just a social policy issue, says Xolani Mncedane, senior research analyst at the consultancy Frost & Sullivan Africa.
There is now a "compelling business case", he says. "The market is more affordable and more appealing.
"Solar home systems and solar-diesel hybrid systems are becoming economical, thereby presenting new opportunities, new business approaches and new financing models," concludes Mr Mncedane.
Posted by

Social Studies Singapore
at 7:27 PM
No comments:
Links to this post